#Handsoverhearts at London Marathon
Dear Runners of Runner's World,
I just wanted to let you know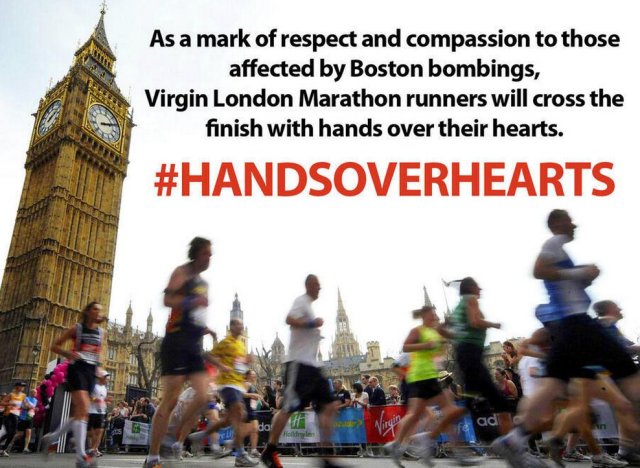 about a campaign we have started called #Handsoverhearts. The campaign urges runners of this Sunday's London Marathon to cross the finish line with their hands over their hearts in tribute to the tragic events that unfolded in Boston on Monday.
Running is a solitary sport, yet as runners we are greater than the sum of our parts, we are a proud community enabling, motivating and supporting one another to achieve greatness. The tragedy that unfolded at The Boston Marathon reminds us of the importance of our community and the love, compassion and camaraderie of runners across the globe.
This small personal gesture will act as a mark of respect and a demonstration of a running community united in tragedy. Photographers capture every marathon runner's finishing moment and we are asking runners to dedicate that moment of personal achievement to those lives whose lives have been irrevocably changed by events at Boston Marathon.
Please spread the message and follow on twitter #Handsoverhearts
Best Wishes,
Lucy Fraser-Macnamara